OBD-II Adapter (ELM V1.5) Bluetooth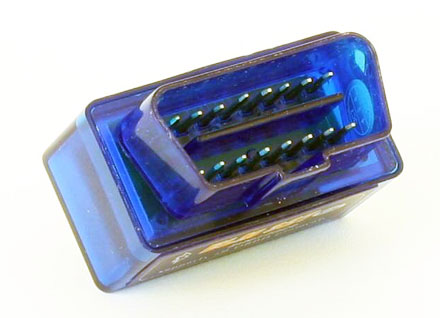 Adapter is comptible with Centrafuse.

Features:
OBD-II Bluetooth is the latest scan tool. It supports all OBD-II protocols. The output protocol (connection to laptop or car-pc or smartphone) is Bluetooth .

OBD Interpreter: ELM32x compatible (320, 322, 323, 327)

OBD-II Protocols:
• SAE J1850 PWM(41.6Kbaud)
• SAE J1850 VPW(10.4Kbaud)
• ISO9141-2(5 baud init,10.4Kbaud)
• ISO14230-4 KWP(5 baud init,10.4 Kbaud)
• ISO14230-4 KWP(fast init,10.4 Kbaud)
• ISO15765-4 CAN(11bit ID,500 Kbaud)
• ISO15765-4 CAN(29bit ID,500 Kbaud)
• ISO15765-4 CAN(11bit ID,250 Kbaud)
• ISO15765-4 CAN(29bit ID,250 Kbaud)
• SAE [more]



Adapter is comptible with Centrafuse.

Features:
OBD-II Bluetooth is the latest scan tool. It supports all OBD-II protocols. The output protocol (connection to laptop or car-pc or smartphone) is Bluetooth .

OBD Interpreter: ELM32x compatible (320, 322, 323, 327)

OBD-II Protocols:
• SAE J1850 PWM(41.6Kbaud)
• SAE J1850 VPW(10.4Kbaud)
• ISO9141-2(5 baud init,10.4Kbaud)
• ISO14230-4 KWP(5 baud init,10.4 Kbaud)
• ISO14230-4 KWP(fast init,10.4 Kbaud)
• ISO15765-4 CAN(11bit ID,500 Kbaud)
• ISO15765-4 CAN(29bit ID,500 Kbaud)
• ISO15765-4 CAN(11bit ID,250 Kbaud)
• ISO15765-4 CAN(29bit ID,250 Kbaud)
• SAE J1939 CAN(29bit ID,250*Kbaud)
• USER1 CAN(11*bit ID,125*Kbaud)
• USER2 CAN(11*bit ID,50*kbaud)
*default settings(user adjustable)

Vehicle Coverage:
Works on all OBD2 Vehicles (1996 onwards in USA) and EOBD vehicles (Petrol cars from 2001 and diesel cars from 2003/2004 in Europe)

Bluetooth pair ode: 1234
Main Control Chip: PIC18F2480

Software compability:
- Scantool_net113win
- EasyOBD-II V2.2
- OBD2Spy
- ScanMaster-ELM
- wOBDCRAZY
- Many more,...


Features:
Read diagnostic trouble codes, both generic and manufacturer-specific, and display their meaning (over 3000 generic code definitions in the database).
Clear trouble codes and turn off the MIL ("Check Engine" light)
Set the maximum number of responses to obtain
Remove spaces from ECU responses (to speed data transmission)
Store a unique identifier in EEPROM
Set the CAN mask and filter with one command
Easily switch between variable and fixed CAN message lengths
Send CAN remote frames (RTRs)
Display current sensor data, including:
Engine RPM
Calculated Load Value
Coolant Temperature
Fuel System Status
Vehicle Speed
Short Term Fuel Trim
Long Term Fuel Trim
Intake Manifold Pressure
Timing Advance
Intake Air Temperature
Air Flow Rate
Absolute Throttle Position
Oxygen sensor voltages/associated short term fuel trims
Fuel System status
Fuel Pressure
Many others...

Please
login
for creating product ratings.
Your rating:

Please tell us your opinion. Rate the product on a scale from 1 to 5. A value of 5 means the best possible rating. If you want you also can leave a comment.

Your ratings are honored on many ways. Your report will help other customers to better judge about the products. And you can benefit from reports other customers are giving.

In addition we credit 0.50 EUR for each given rating with comment and 1.00 EUR for each given rating with comment (more than 150 characters) on your account. The credit will be substracted automatically on your next order !

We reserve us the right to delete given comments (for example on attempts to give comments with senseless content, copying of other comments, inserting of foreign content, abusing the system for financing orders). "Fair-use-policy" does apply (as of rule of thumb you should give comments for products which you have purchased already. And your credit account only in rare cases will have 2 or even 3 digits). The credit can only be withdrawn by placing an order. It is not possible to get the credit cash or transferred in an other way.
Description
Data sheets and downloads
Customer ratings